Best Overall Exercise Bike
Schwinn Fitness AD7 Airdyne Bike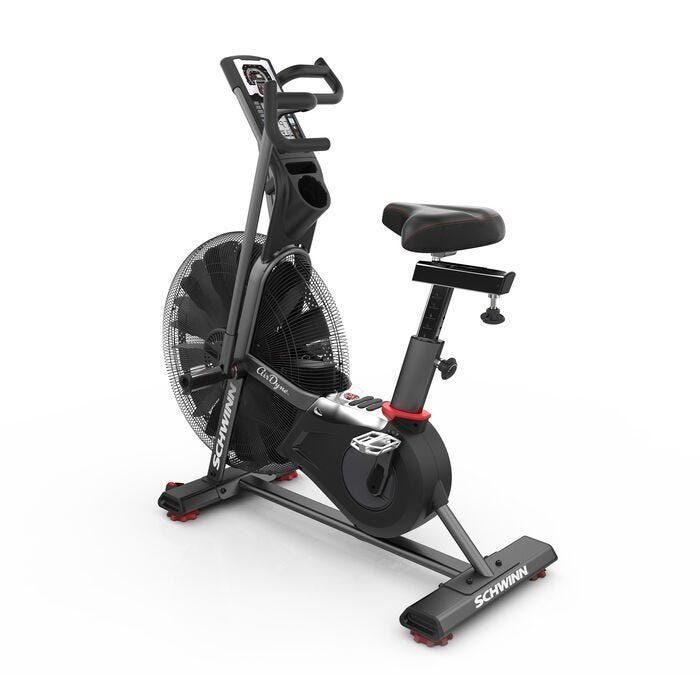 Best Overall Exercise Bike
Schwinn Fitness AD7 Airdyne Bike
Now 31% Off
Pros
The industry standard exercise bike
Infinite resistance levels
Comfortable ride
Quiet, high-resistance fan
Durable weight capacity
Wheels make for easy storage
Best for: people seeking a premium, durable, full-body workout experience
Why Our Editors Love It
Our first-hand experience with the AD7 Airdyne left us impressed by its durability, comfort, and the workout it delivers. From the moment you start pedaling, you'll feel the power of this bike. The wind-resistance setup gets the arms and legs working in unison, delivering a true full-body cardio workout that we love for interval training.
Any stationary bike workout is only as effective as your willingness to stay on the machine. The AD7 addresses this with an extra-padded, oversized seat that we found supremely comfortable. Whether you prefer a leisurely rehab ride or a brutal HIIT session, you'll find the seat to be adequately cushioned and supportive, making a workout on this bike that much more enjoyable.
Schwinn is a name synonymous with quality in the world of bikes, and the AD7 Airdyne Bike lives up to that reputation. We appreciate its robust construction and long-lasting durability. This bike is an investment in your fitness that will pay dividends for years to come.
Special Features That Set It Apart
Unlike traditional exercise bikes, the AD7 uses wind resistance, which adapts to your effort. The harder you pedal, the more resistance you feel. It's like having a personal trainer adjusting the intensity in real-time.
The console tracks your time, distance, calories, RPM, watts, pulse, and speed. Plus, you can set custom interval workouts to challenge yourself and track your progress.
Despite its power, the AD7 operates quietly. You can pedal away without disturbing others in your household, allowing for practical early morning or late-night workouts.
Considerations to Keep in Mind
The Schwinn AD7 Airdyne Bike offers exceptional value for its quality and features, but this bike may lean towards the pricier side for some buyers. But it's a Schwinn we're talking about—when it comes to bikes, that name carries weight.
If budget constraints are a concern, Schwinn offers the Airdyne AD6which provides many of the same features we love at a more affordable price point. It's a sensible alternative for those who still want to experience the Schwinn quality without stretching their budget to the limit.
Read more: Best Air Bike
| | |
| --- | --- |
| Dimensions (L x W x H) | 54.5 x 34 x 15 inches |
| Resistance type | Air |
| Resistance levels | Infinite |
| Weight capacity | 350 lb. |
| Item weight | 113 lb. |
Best Budget Exercise Bike
YOSUDA Indoor Cycling Bike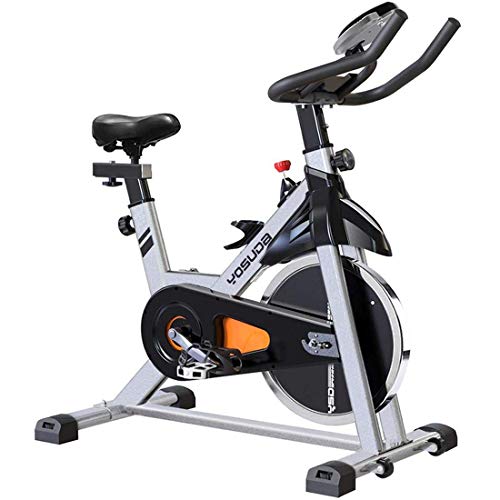 Best Budget Exercise Bike
YOSUDA Indoor Cycling Bike
Now 43% Off
Credit: YOSUDA
Pros
Ideal for beginners and budget-conscious riders
Super quiet operation
Great price
30-day full refund guarantee
Cons
Lower weight capacity than other options
Best for: beginners who want to establish a cycling routine
Why Our Editors Love It
Despite being a hidden gem in the world of indoor exercise bikes, this YOSUDA bike is a great buy. This bike is by no means a high-tech, studio-style cycle, but it's not pretending to be. Its simplicity is its strength.
During our rigorous testing, one standout feature that left us impressed was its near-silent operation. No more cranking up the TV volume or donning headphones to escape the noise—this belt-driven bike glides smoothly, and for less than $450 to boot.
With an easily accessible resistance knob, just a slight turn can fire up the intensity. Whether you're a seasoned cyclist or just starting out, this bike works well for all skill levels.
This bike offers a solid base that doesn't devour your living space. "It strikes a balance between stability and a manageable footprint, making it a practical pick for smaller spaces and apartment living," says Appleton. "You can trust it to stay put, even during intense workouts, without the front and rear legs encroaching on precious floor space."
Special Features That Set It Apart
Plus, the generously sized pedals offer comfort even for those with larger feet, ensuring a secure grip throughout your ride.
Unlike some other models that seem to collect dust and debris like a magnet, the YOSUDA's flywheel remains impressively clean. Quick and easy cleaning with just a damp cloth keeps it looking and performing like new, allowing you to focus on your fitness goals without the hassle of constant upkeep.
Considerations to Keep in Mind
While the bike delivers an exceptional workout for its extremely budget price point, the console is minimalist. If you're seeking a studio-style cycle with all the bells and whistles, this bike is not the right fit—you won't find a multitude of pre-programmed workouts or a high-resolution touchscreen. However, its straightforward design is what keeps it affordable and accessible.
| | |
| --- | --- |
| Dimensions (L x W x H) | 40.16 x 21.65 x 46.06 inches |
| Resistance type | Flywheel |
| Resistance levels | Infinite |
| Weight capacity | 270 lb. |
| Item weight | 72.5 lb. |
Best Exercise Bike for Studio-Style Classes
Peloton Bike+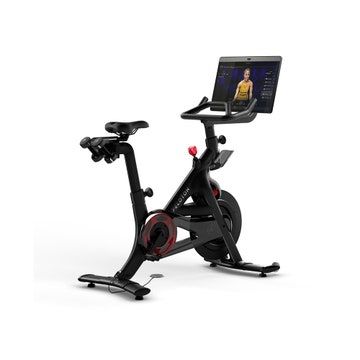 Best Exercise Bike for Studio-Style Classes
Peloton Bike+
Now 20% Off
Pros
Beautiful, 24-inch HD monitor
High-tech design with next-gen features
Premium, industry leading online classes
Durable build
Free delivery and setup
30-day in-home trial
Compact footprint
Cons
Very expensive
Requires clip-in pedal shoes
Best for: best-in-class studio-style cycling classes
Why Our Editors Love It
When it comes to the Peloton Bike+, there's a lot to love. Its the pinnacle of high-tech stationary bikes, offering cutting-edge technology, world-class classes, and versatility that set it apart as a top-tier choice for home workouts beyond cycling alone.
From its crisp 24-inch HD touchscreen display, users can tap into a best-in-class library of instructor-led studio-style classes. Our very own MH Fitness and Commerce Editor, The speeches AppletonNASM, has been a dedicated user of this bike for over four years. Her experience speaks volumes, "There's always something new and exciting to explore. From cycling to off-bike sessions like core workouts and hybrid strength classes, the variety is endless."
Special Features That Set It Apart
While the Bike+ maintains the same compact size as its predecessor, the Peloton Bikethe addition of a 360º rotating screen is a game-changer. Given adequate space to move around the machine, the new and improved screen allows users to optimize their view for different types of off-bike classes, offering a gateway to a comprehensive exercise program. Whether you're craving a quick core session or a hybrid workout that combines strength training with cycling, it's an upgrade worth every penny for the versatility it adds.
The auto-follow feature takes the indoor riding experience to new heights, too. When activated, auto-follow automatically adjusts users' resistance based on the trainer's cues, creating an immersive, scalable workout. No need to fumble with resistance knobs; the Bike+ responds intuitively, so you can focus on your performance.
Considerations to Keep in Mind
While the initial investment is substantial, the monthly subscription fee for access to Peloton's classes can also add up. However, if you fully utilize the platform and its library of classes, it's a worthwhile expense. Other than price, the only catch is that you'll need some extra floor space in front of or beside the bike make the most of the Bike+'s versatility.
Peloton also offers a 30-day in-home trial with free delivery, setup, and, if needed, pickup and return. It's a commitment to customer satisfaction that helps protect your investment in this bike.
Read more: Peloton Bike+ Review
| | |
| --- | --- |
| Dimensions (L x W x H) | 59 x 22 x 59 inches |
| Resistance type | Magnetic |
| Resistance levels | 100 |
| Weight capacity | 297 lb. |
| Item weight | 127 lb. |
Advertisement – Continue Reading Below
Most Popular Air Exercise Bike
AssaultFitness AirBike Classic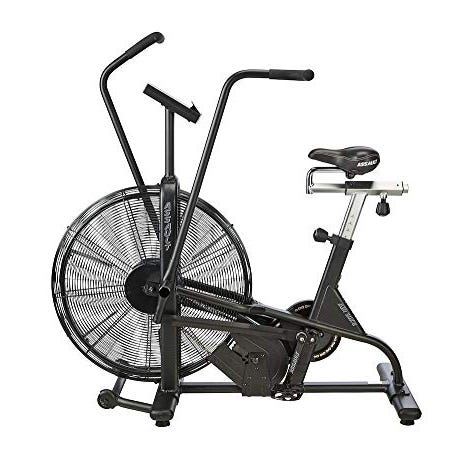 Most Popular Air Exercise Bike
AssaultFitness AirBike Classic
Now 16% Off
Pros
Oversized fan with unlimited air resistance levels
Much beloved design used in CrossFit Games
Super solid construction
Hefty, 350-pound rider weight limit
Cons
Chain drive system requires more maintenance than belt drive
Best for: durability and high-intensity workouts without breaking the bank
Why Our Editors Love It
The Assault AirBike Classic is the undisputed heavyweight champion of high-intensity exercise bikes for under $800. There's a raw, unapologetic simplicity about this bike that we can't help but admire. It's a no-nonsense machine that prioritizes the essence of a challenging workout without distractions.
It doesn't have flashy tech features and even lacks some basic finishes like water bottle holders, media trays, or touchscreen displays, but does what matters most extremely well—delivering an intense, muscle-pumping cardio workout. It's all about the sweat, the burn, and the results. Plus, you won't need to fiddle with power cords; this beast doesn't require plugging in.
Weighing in at less than 100 pounds, it's the lightest and most budget-friendly AirBike model from Assault. But don't mistake its lightness for weakness. This machine is a testament to sturdiness and durability; it can comfortably handle rigorous usage without breaking a sweat.
Special Features That Set It Apart
Like most air bikes, we mostly use the AirBike Classic in manual mode, relishing the control it offers for interval work. Though it does offer a few programmed workouts accessible through the LCD screen for those seeking a structured challenge.
Considerations to Keep in Mind
The absence of a wind screen can be a minor inconvenience, especially during chilly workouts when that extra breeze cools you down a bit too much. If you're using it in a cold basement or garage, you might find yourself longing for a shield against the draft.
Compared to the Pro and Elite AirBike models from the brand, the warranty on the Classic doesn't provide the same level of coverage as its higher-priced counterparts. The good news is that it has proved incredibly durable in our 6+ years of testing, with only minimal signs of wear and tear emerging, like rust and corrosion.
Read more: Air Bike vs. Spin Bike
| | |
| --- | --- |
| Dimensions (L x W x H) | 59.95 x 23.34 x 50 inches |
| Resistance type | Air |
| Resistance levels | Infinite |
| Weight capacity | 350 lb. |
| Item weight | 110 lb. |
Best Mid-Range Spin Exercise Bike
NordicTrack Commercial S22i Studio Cycle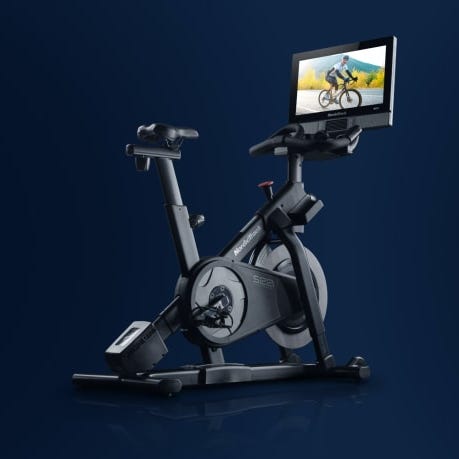 Best Mid-Range Spin Exercise Bike
NordicTrack Commercial S22i Studio Cycle
Pros
22-inch Interactive HD Touchscreen Display
Rich library of on-demand studio classes
Whisper-quiet magnetic resistance
Sturdy design with a hefty, 350-pound rider weight limit
Cheaper than a Peloton Bike+
Easy to store
Cons
On-demand classes are not as premium as Peloton's
Best for: those seeking a mid-range studio-style option
Why Our Editors Love It
The NordicTrack S22i Studio Cycle is the answer to your Peloton Bike+ dreams without breaking the bank. If you've been lusting after the newest Peloton bike but felt the price was too steep, this bike is a reasonable alternative. While it's still an investment, it won't leave your wallet gasping for air.
Now, to be upfront, the NordicTrack's classes didn't get us as amped up as Peloton's, but here's the deal: you're still getting a generous 22-inch HD touchscreen and a treasure trove of on-demand classes. It's a darn good experience, comfortable and easy to use. With adjustable incline options ranging from +20 to -10%, along with AutoAdjust resistance and incline, this bike has a ton of customization power, too.
Special Features That Set It Apart
What we love the most within iFit's trainer-led classes are the scenic rides. Riders can virtually transport to breathtaking locations around the world for cycling workouts of their choosing. Cycling through the Swiss Alps or along the beaches of Hawaii without leaving your home is a pretty sweet way to spice things up.
Think of it as a mid-range option between Peloton's two models, offering exceptional value for what you get without compromising on quality. This bike also comes with premium finishes like dumbbells, bottle holders, and an adjustable fan.

Considerations to Keep in Mind

The NordicTrack S22i Studio Cycle is a substantial piece of equipment, weighing over 200 pounds. We love that it's sturdy and robust, but moving it can be a bit of a workout in itself, especially if you plan to reposition it frequently or lack ample space for a permanent setup.
| | |
| --- | --- |
| Dimensions | 55 x 21.9 x 56.9 inches |
| Resistance type | Magnetic |
| Resistance levels | 24 |
| Weight capacity | 350 lb. |
| Item weight | 205 lb. |
Pros
Large, whisper-quiet fan
Smooth ride
Extremely durable, overbuilt construction
Low-maintenance belt drive system
High contrast LCD console
1-inch polyurethane wheels make for easy moving
Best for: athletes seeking high-intensity workouts on a durable machine
Why Our Editors Love It
Looking for a bike that could outlast even the craziest scenarios? Well, if the end of the world comes knocking, the Rogue Echo Bike will likely still be pedaling away. This thing is solid as a rock, capable of handling whatever you throw its way. Its not suitable for those lacking in strength, as it demands a considerable amount of power to ride.
Its belt drive system is consistent and essentially maintenance-free, meaning you can focus on your workout, not tinkering around with the machine. We've used this bike on and off for more than six years, and have never experienced technical issues.
Beyond its durability, this bike rides like a dream. Pedaling is smooth and fluid in motion, and returns more resistance in response to the rider's effort.
We don't just recommend this bike; we swear by it. Years of firsthand testing have made it abundantly clear that if air bikes had Oscars, this one would be walking away with the golden statue, no doubt.
Special Features That Set It Apart
This bike employs a belt drive system, similar to what you'll find in the Schwinn Airdyne Bike. These belts are incredibly durable and produce less noise than chain-drive systems. In fact, when riding the Rogue Echo Bike, the primary sound we hear is the rush of wind against the fan blades, not the drive system itself. "The lack of noise this thing generates is actually quite remarkable for the power it produces," explains Appleton.
Another unique feature of the Rogue Echo Bike is its fan blades. It's crafted fan blades from thin gauge steel, cut them out, applied a powder coating, and welded them to a central hub within the fan cage. While this level of detail might seem unnecessary, it adds to the fan's long-term reliability and overall aesthetic.
Considerations to Keep in Mind
Now, we won't sugarcoat it; this machine is heavy. But fear not, because it comes equipped with wheels at the front. So, even if you're not the Hulk, you can still shuffle it around to ensure it fits in your workout space.
The only other qualm we have with this bike is that it doesn't feature multi-grip handles like the Schwinn Airdyne does.
| | |
| --- | --- |
| Dimensions (L x W x H) | 58.875 x 29.875 x 52.75 inches |
| Resistance type | Air |
| Resistance levels | Infinite |
| Weight capacity | 350 lb. |
| Item weight | 123 lb. |
Advertisement – Continue Reading Below
Best Budget Spin Exercise Bike
Echelon Connect Bike EX-7s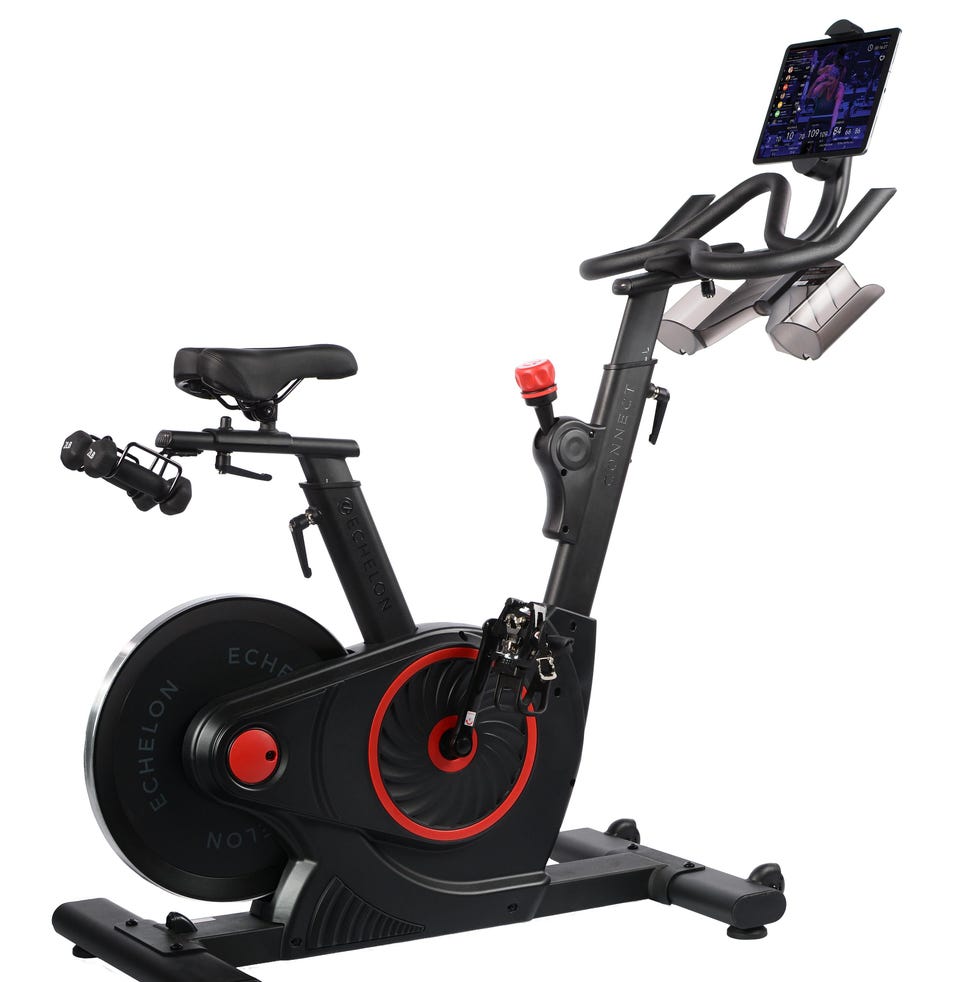 Best Budget Spin Exercise Bike
Echelon Connect Bike EX-7s
Now 38% Off
Pros
22" HD touchscreen display with 180° flip rotation
Comfortable, yet supportive competition-style seat
32 levels of indexing resistance
Bluetooth-enabled
Compact design fits in small spaces
Full 30-day return policy
Best for: studio-style cycling classes on a budget
Why Our Editors Love It
This bike is no slouch when it comes to its hardware. In fact, it offers many of the same features as bikes double its price. From adjustable handlebars to convenient dumbbell holders, 32 levels of resistance, toe-cage pedals, and a spacious touchscreen display, it boasts all the features you'd expect from a premium bike. And it's wrapped in a sleek, matte black finish that oozes style.
Whether we were sprinting or climbing out of the saddle during intense workouts, this bike offered unwavering stability. We never found ourselves wobbling or feeling uneasy on this machine. The elevated bullhorn handlebars aren't just about style; they provide an elbow rest that we found essential during grueling climbs. It's a thoughtful touch that we found enhances overall riding comfort.
Special Features That Set It Apart
The competition-style seat on this bike strikes a balance between comfort and support that other bikes we've tested in this price range miss the mark on. It's designed for long sessions, providing that Goldilocks level of cushioning.
Beyond the hardware, this bike has interactive features and real-time social engagement to add an extra layer of camaraderie to your home cycling workouts. Through live and on-demand classes, riders can connect with fellow riders in real-time, giving virtual high-fives and sharing the journey together.
Considerations to Keep in Mind
While this bike offers a fantastic workout experience for just about $1,200, its offerings still lag behind more premium models in terms of variety and quality. If you're seeking a wide range of ride durations and styles, you might find its library of classes somewhat limiting.
Read more: Best Cardio Machines
| | |
| --- | --- |
| Dimensions | 58 x 21.5 x 61 inches |
| Resistance type | Magnetic |
| Resistance levels | 32 |
| Weight capacity | 325 lb. |
| Item weight | 112.43 lb. |
How to Choose an Exercise Bike

Deciding on the right at-home exercise bike can seem daunting. "For anyone reasonably serious about using the bike for more than a coat rack will want a bike that is durable, easy to use, easy to maintain, quiet, and in some cases capable of providing feedback about your workout (such as watts, RPM, and estimated distance)," says Booth.
Here's the full run-down of what we recommend considering when shopping for the best exercise bike (for you):
Type of use
: "Ultimately, it depends on how you intend to use it," says Booth. "If the intent is just to get a little cardio a few times a week, a fairly simple bike will do the trick."
"However, if you want to maximize the cardiovascular and strength benefits of riding a stationary bike, or plan to use it as a supplement to outdoor riding, then it is important to get a bike with geometry similar to a road bike."
Resistance: The resistance mechanism is the heart of any indoor exercise bike and is guaranteed to make you simultaneously love and hate your new cycle. It's also what dictates how quiet and smooth the ride is. Many mid-tier to premium bikes nowadays use magnetic resistance. It's more expensive but also makes for an ultra-smooth, whisper-quiet ride. High-end bike makers like Peloton can also use this type of resistance to integrate into their online classes seamlessly. Entry-level and budget exercise bikes, on the other hand, often use traditional air resistance or mechanical flywheels with friction for resistance.
Connectivity: Exercise bikes have come a long way in the last decade. Modern bikes feature WiFi connectivity that allows for incredible integration with online courses. Built-in Bluetooth is another nice-to-have feature that will enable you to, for example, pair wireless headphones or mobile fitness apps with your bike. Connectivity isn't a must, but it is close to it, especially if you're not going the air bike route. No cardio modality lends itself to online-led workouts better than stationary bike work.
Pedal and footwear compatibility: Most entry-level bikes and some mid-tier models feature a flat pedal or a pedal with a simple toe cage—either is compatible with almost any shoe or sneaker you care to wear. But, higher-end exercise bikes (like Peloton) require special Delta or SPD-compatible cycling cleats. Be sure to check the manufacturer's website to see if this is something to consider.
Tablet or screen mount: This may or may not be a must-have for you. It's all a matter of personal preference. If you like to watch movies, YouTube, Netflix, etc. while working out, you may want a bike with a built-in spot to stash your device. A tablet or screen mount also makes it easier to watch instructor-led classes too.
Budget: There's no getting around the fact that exercise bikes aren't cheap. While the most obvious factor for many consumers will be price, "In most cases, you get what you pay for," Booth told Men's Health. Your options range from $300, barebones cycles with few features to high-end, uber-connected models from the likes of Peloton's Bike+ that cost upwards of $2,500.
But you don't have to spend a small fortune to land a decent model. The best budget to mid-range models are priced between $800-$2000. While that's not chump change, it's a worthwhile investment if you're planning to integrate trainer-led classes or resistance-driven sessions into your regular routine. While there are a few decent sub-$1,000 bikes out there, don't expect them to last beyond five years or so.
Warranty: Because exercise bikes are such a big investment, budget and warranty go hand-in-hand. Many of the bike models we recommend offer a solid warranty of between one and seven years on parts, plus at least a one-year warranty on labor. This is totall y reasonable, especially if you're spending north of $1,500 on a new machine. You should expect that your bike's frame and resistance mechanism should both be warrantied for the life of the unit.
Benefits of an Exercise Bike

A 2019 study showed that regular use of an exercise bike—alone or combined with strength training—can have a positive impact on aerobic capacity in as little as 3 months. Researchers also concluded that, like other forms of regular cardio, using an exercise bike can also contribute to a reduction in systolic and diastolic blood pressure—especially when combined with a heart-healthy diet.
Indoor cycling is also a low-impact form of cardio, resulting in less pressure on the joints than activities like running or jumping. Cycling is not a load-bearing exercise, says Kate HeelanPh.D., a professor of exercise science at the University of Nebraska at Kearney. This helps to minimize the risk of injury caused by malalignment, loss of balance, etc…
It's hard to beat the fresh air and sense of freedom an outdoor ride offers, but indoor cycling has a few unique benefits that can't be duplicated on the road. "Not only is weather-proof, it is also very safe provided the bike is well-maintained and properly fit," explains Booth. "Finally, it is time-efficient and enables a rider to perform certain types of workouts, skills, and drills in a controlled environment that simply can't be performed as effectively outdoors." Meaning you can hit hills or flat road when and how you want, just with the press of a button.
Because you'll never quite be 'coasting' or riding downhill on an exercise bike, indoor cycling workouts can allow you to get the benefit of several hours worth of outdoor riding done in half the time.
Advertisement – Continue Reading Below
Exercising on an Indoor Bike Compared to Outdoor Cycling

Cycling is an amazing way to get in shape and stay healthy, there's no doubt about it. But when it comes to choosing between indoor and outdoor cycling, what are the real differences?
"Broadly, both devices will burn calories and offer cardiovascular benefit," says MH fitness director Ebenezer Samuel, C.S.C.S. "But they're not the same experience."
For starters, there's the convenience factor. Indoor cycling is ideal for those who are short on time or live in regions where the terrain or weather may limit getting a ride outdoors. It can be much easier to hop on an indoor bike at home or at the gym and get a great workout without having to worry about traffic, the environment, or safety concerns.
Both modalities lead to cardiovascular benefits and, like any activity, they both burn calories. But outdoor cycling challenges other qualities, says Samuel. "You're actively moving through space when you cycle outdoors," says Samuel, "which challenges your muscles to decelerate, react, and constantly micro correct in ways it won't on a stationary bike." The outdoor bike also offers a basic balance challenge that the indoor bike lacks.
Outdoors, the terrain and your pace set the challenge. Indoors, however, you can more easily customize your intensity, simply adjusting the resistance level on your bike. This (and the removal of the balance challenge) can make indoor cycling more beginner-friendly.
Many indoor bikes offer an interactive component now, too, like instructor-led classes and competitive leaderboards, which can be a great way to stay motivated and challenge yourself. These classes also provide a sense of community and support to stay motivated and hungry, even when you're working out alone.
Losing Weight with an Exercise Bike

The immediate answer is a resounding "yes", according to Booth, but with a few caveats. Engaging in an intense indoor cycling session can elevate your heart rate, facilitate fat burning, and promote the development of lean muscle mass.
"However, it easy to undermine weight loss goals if nutritional intake is ignored," she explains. "A recent meta-analysis on the benefits of indoor cycling was generally positive for improvements in lipid profile, body composition, and aerobic capacity, but the best results in the included studies also involved a dietary component."
But the key here, as with reaping the benefits of any form of exercise, is consistency. If you're new to cycling or an exercise bike, start slow. You can always increase the intensity of your workout throughout a session or over time, by adjusting the resistance or increasing your speed, to help you burn more calories and continue to see progress.
How to Avoid Getting Injured on an Exercise Bike

Exercise bikes are generally considered to be a low-impact form of exercise, and they're a joint-friendly way to burn calories. But it's still important to take precautions to avoid the potential of injury. Here are some tips to help you stay safe on an exercise bike:
Adjust the bike to fit your body: Make sure the seat height, handlebar height, and distance between the seat and handlebars are adjusted to fit your body. This will help you maintain proper form and reduce the risk of injury from malalignment. See more below for a step-by-step on how to adjust your bike.
Warm up before your workout: Spend 5-10 minutes warming up before you start your workout. Skip static stretches in this warmup and focus on creating bloodflow and raising your body temperature. You can do this off the bike with a few minutes of bodyweight moves (like lunges and air squats) or on the bike, with gentle pedaling.
Take breaks and listen to your body: If you feel any pain or discomfort while using the exercise bike, take a break and assess the situation. If the pain persists, stop your workout and consult with a healthcare professional.
Stay hydrated: Drink plenty of water before, during, and after your workout to help prevent dehydration.
Advertisement – Continue Reading Below
Should You Get an Air Bike or Spin Bike?

In general, both devices can work for both high-intensity interval training workouts and long cardio. But how you prioritize your training will determine which bike is best for you. If you plan to focus on HIIT-based workouts, or want to mix weight training and bodyweight in with your bike work, the air bike is your jam. It's easier to dismount the bike after a one-minute interval, then do a set of pushups, for example, making this ideal if you love Crossfit-style training.
"Many fans of the air bike love it for performing short, hard bouts of work making it a great tool for HIIT and as a component of circuit-style workouts," says Booth.
As Booth tells it, if those steady-state workouts are your focus or you're using an indoor exercise bike to supplement outdoor riding, hop on a spin bike and get ready to pedal. And if you like doing cardio while watching TV, also opt for the spin bike; fan bikes are incredibly loud.
No matter which one you choose, you can count on a heart-pounding sweat session that can increase your VO2max and cardiovascular endurance—and burn tons of calories.
How to Adjust an Exercise Bike

When it comes to using an exercise bike properly, fit is most important.
"You can have all the tech and nice shoes, but if you're not properly fit on your bike, not only will it be uncomfortable, but you run the risk of strained calve muscles, hip misalignment, and knee stress, among other things," says Alvarado, who always follow a 5-step process:
Set the handlebar and seat fore/aft adjustments to the neutral "0" position and tightened the dials securely
Use the hip bone (iliac crest) as a guide to set the saddle to the correct height
Adjust the handlebar to the correct height; ensure it's level with or slightly higher than the seat height
Hop onto the bike and pedal for a minute to evaluate the seat and handlebar height
If necessary, make any minor adjustments.
"At the end of the day, there should be a slight bend in the elbows for a comfortable reach and a slight bend in the knee at the lowest (6 o'clock) pedal stroke position. The saddle can be uncomfortable for new riders at first. Proper bike fit allows for the best experience and the most power generated."
Why You Can Trust Us

At Men's Healthwe take great pride in providing our readers with reliable and trustworthy product recommendations. We believe that our readers deserve the best, which is why we always make sure to conduct thorough research and testing before making any recommendations. Our writers and editors thoughtfully select experts for collaboration on product recommendations, and are also experts in their own right, using their informed opinions to select products and ensuring that our content is of the highest quality.
Our product recommendations are purely editorial, and while we may receive free products to test and review, we only recommend the products we are most impressed by. We never let retailers or public relations contacts dictate our content or product coverage. Which is why you can trust us to provide you with reliable and unbiased product recommendations.
Advertisement – Continue Reading Below
How We Selected
Over the years, Men's Health's fitness editors, as well as key fitness trainers from both MH's Advisory board and MH's Strength in Diversity Initiative, have taken great care in researching and evaluating the wide pool of exercise bikes. Some MH editors and collaborators spent hours of hands-on time testing exercise bikes for durability, quality, and training efficiency, while others scoured the internet to compile and consider reviews, specs, and more. Ultimately, we ended up with the above list that represents our top picks for the best exercise bikes to shop in 2023.
Shop More of Our Favorite Home Gym Equipment


Ebenezer Samuel, C.S.C.S., is the fitness director of Men's Health and a certified trainer with more than 10 years of training experience. He's logged training time with NFL athletes and track athletes and his current training regimen includes weight training, HIIT conditioning, and yoga. Before joining Men's Health in 2017, he served as a sports columnist and tech columnist for the New York Daily News.
Fitness and Commerce Editor
Talene Appleton is a fitness and food writer and editor, certified personal trainer (NASM-CPT), and former professio nal dancer based in New York City. Passionate about both exercise and cuisine, she merges her fitness, nutrition and culinary expertise with the goal of motivating others to embrace balanced healthy living. Her work has appeared in Men's Health, General Surgery News, The Food Institute, The Nessieand more.