Most Durable Treadmill
Bowflex Treadmill 22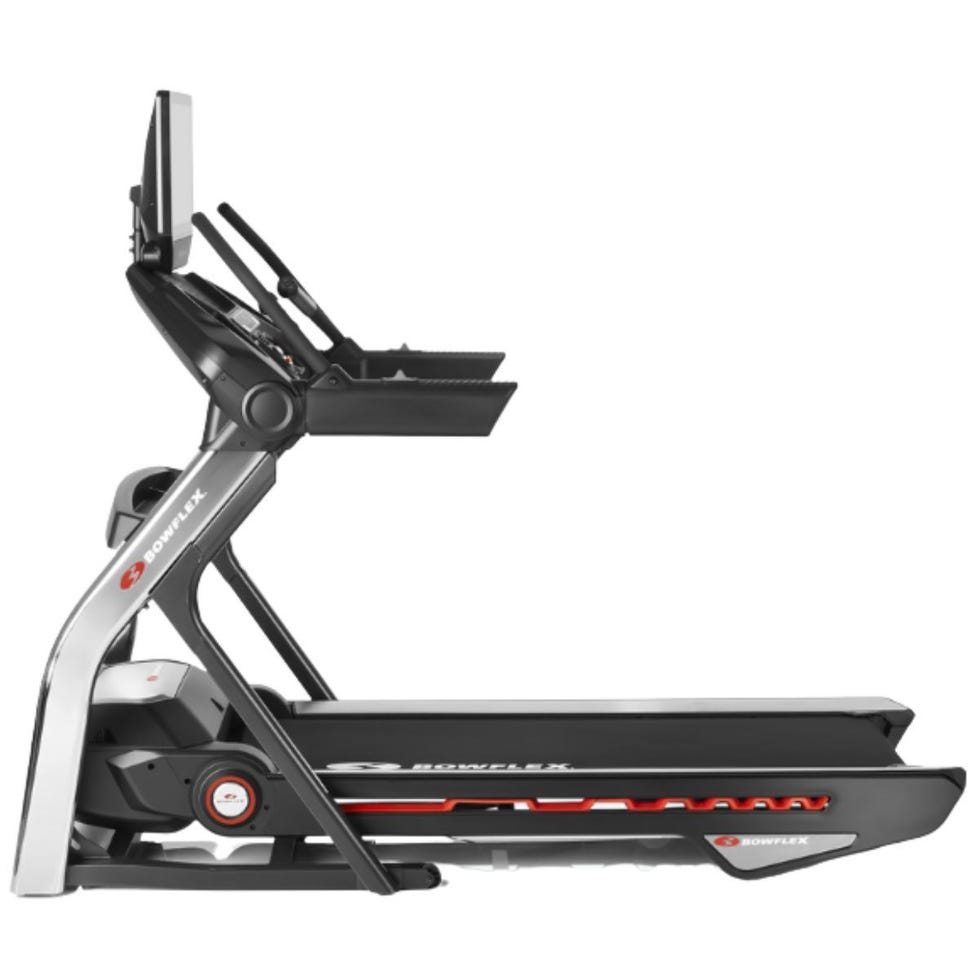 Most Durable Treadmill
Bowflex Treadmill 22
Credit: Courtesy of Retailer
Pros
400-lb user weight capacity
15-year frame warranty
Foldable
Incline and decline options
Compatible with JRNY programming
Cons
Pricey
Heavy and difficult to move
The Bowflex Treadmill 22 is an absolute powerhouse. I've personally run on this treadmill at home for more than five years, and I can confidently say it delivers outstanding workouts solo or when following on-demand classes with a trainer. It's remarkably easy to setup thanks to straightforward assembly instructions, taking less than an hour for myself and a family member to complete from start to finish.
Bigger guys: take note of the 400-pound user weight capacity, which surpasses the industry standard by 100 pounds. The frame itself is exceptionally sturdy, and I didn't detect any shaking even when running at push pace (it goes up to 12 MPH). I also find this tread especially great for interval training and hills when I want to switch things up, given its broad decline/incline range.
The downside of the durability and solid feel of this machine is that it's unsurprisingly quite heavy. Weighing in at 336 pounds, moving it requires at least two pairs of hands (and some gusto), even with the included transport wheels. For this reason, you'll need to designate a dedicated spot for this treadmill, as it's not as compact as some other models when folded. That designated spot will need to be quite spacious as well, as this tread is wider (and a tad longer) than most comparable home machines.
On the plus side, the extra-large 22-inch by 60-inch deck more than compensates for its substantial footprint. We can open up our stride on this machine and never feel crammed or cut short. Bowflex's commitment to quality is evident in their warranty offering a 15-year frame coverage (which is on par with the industry standard).
Read more: Exercise Machine Guide
| | |
| --- | --- |
| Dimensions (LxWxH) | 85 x 39.6 x 70 inches |
| Item weight | 336 lb. |
| Weight capacity | 400 lb. |
| Display | 22-inch adjustable HD touchscreen |
| Max. speed | 12 MPH |
| Incline range | -5% to 20% |
Best Treadmill for Jogging
NordicTrack EXP 10i Treadmill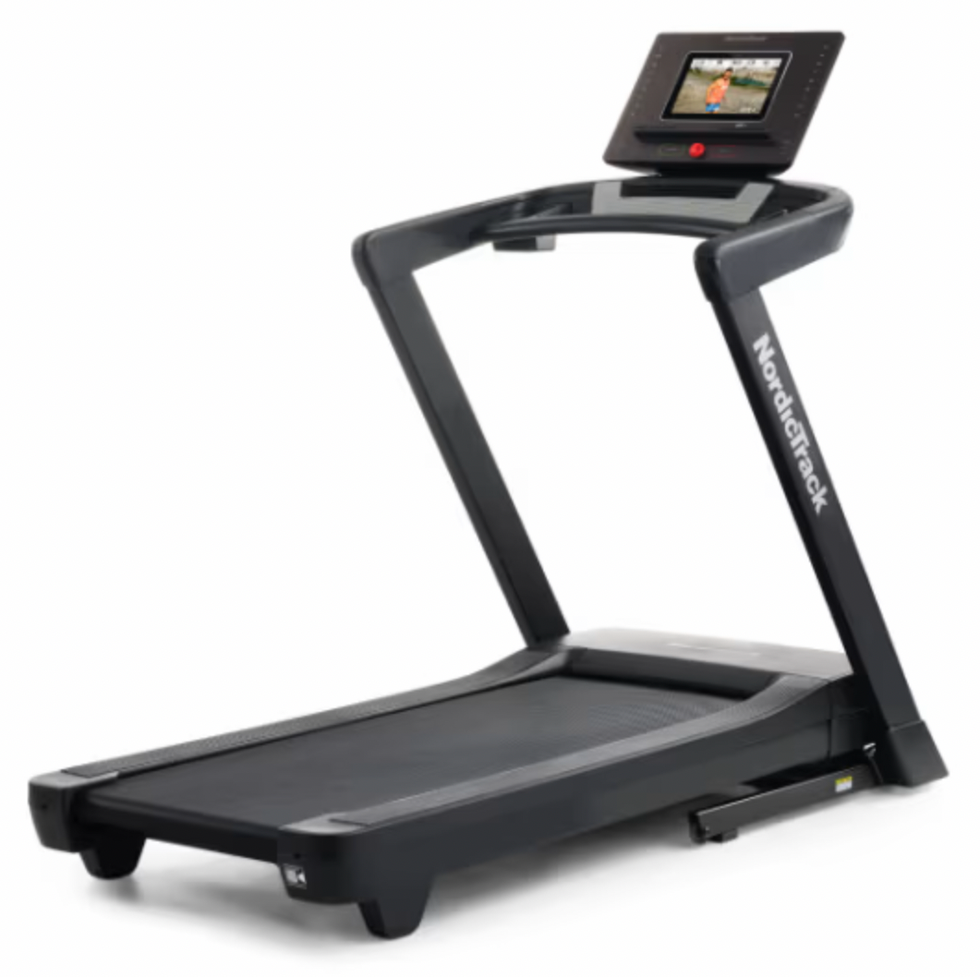 Best Treadmill for Jogging
NordicTrack EXP 10i Treadmill
Credit: original photo
Pros
AutoAdjust tech automates speed and incline
Pre-loaded and on-demand training programs available
Simple quick touch controls
Easy-to-fold, space saving design
The NordicTrack EXP 10i takes the lead in the tech-forward, reasonably-priced EXP series, which also includes the EXP7i. I had the privilege of testing this treadmill at NordicTrack's headquarters in Logan, Utah, and it's safe to say I'm a big fan.
This treadmill is quite compact and easy to move around thanks to an easy-fold feature and wheels. One feature I really appreciate is the shock-absorbing properties of the belt. It offered noticeable relief for our aching knees and ankles after completing a 12-mile run at marathon pace.
We found that both its base and belt strike a balance between not being too narrow or wide and provide stability and adequate runway even for bigger guys (up to 300 lb.). In my experience with this tread, it also delivers a quieter experience compared to many other models I've tested, which is sure to be appreciated by your housemates or downstairs neighbors.
Equipped with a 2.75 continuous Hp motor, this treadmill offers modest speeds of up to 10 MPH and an incline of up to 12%, meaning it's not the best choice for sprinters or speed training.
This model also features a 10-inch HD touchscreen display that provides on-demand instructor-led classes and programs to guide your runs at any time. The touchscreen display is flanked by quick key buttons for speed and incline, allowing you to easily adjust settings with a single touch and eliminating the need to repeatedly press buttons.
Read more:Best Folding Treadmills
| | |
| --- | --- |
| Dimensions (LxWxH) | 70.8 x 34.9 x 59.7 inches |
| Item weight | Not listed |
| Weight capacity | 300 lb. |
| Display | 10-inch HD Smart Touchscreen |
| Max. speed | 10 MPH |
| Incline range | 0 – 12% |
Best Starter Treadmill
ProForm Pro 2000 Smart Treadmill with 10" Touchscreen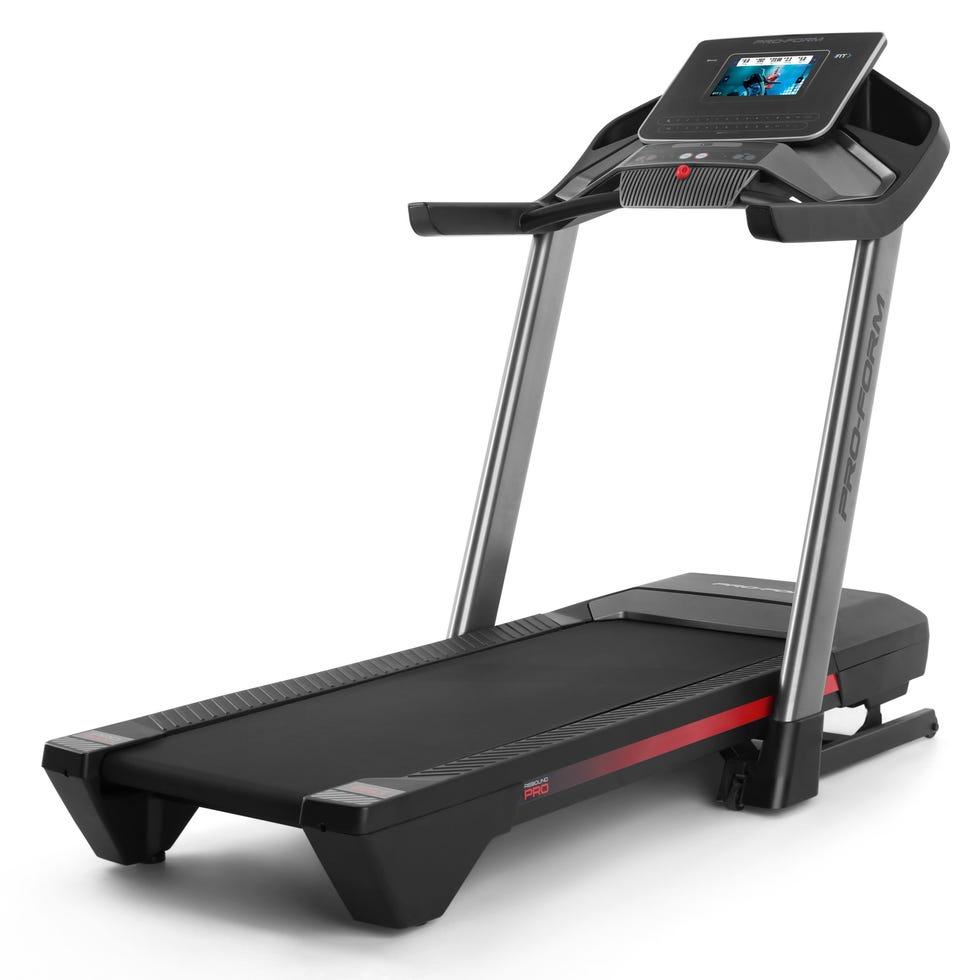 Best Starter Treadmill
ProForm Pro 2000 Smart Treadmill with 10" Touchscreen
Credit: Courtesy of Retailer
Pros
Folds up for easy storage
60" x 20" deck
Has both incline and decline
300-lb user weight capability
3.5 CHP motor
Compatible with iFIT programming
Cons
10-year frame warranty could be better
If you're in the market for an affordable starter treadmill that doesn't compromise on speed, decline/incline, and display features, the ProForm Pro 2000 is an excellent choice, all under the $1,500 mark. In my experience with this treadmill, it perfectly suits my needs, offering a sturdy build, relatively quiet operation, up to 12 MPH for speed work, and steep incline to tackle hills.
I love that when changing incline, this machine is nearly silent, unlike some treads that creak and whine with each 1% adjustment. Positioned below the touchscreen is a generously-sized built-in fan, which is conveniently positioned and a total lifesaver when the training gets tough.
This baby packs a 3.5 CHP motor, which is heftier than the industry standard 3.0, making this treadmill suitable for casual and serious runners alike. The deck is also about 5″ longer than most comparable machines, which is a crucial consideration and a huge plus for long-legged folks.
For those seeking interactive programming, the Pro 2000 doesn't disappoint, thanks to iFit compatibility. Although the treadmill's 10-inch touchscreen is on the smaller side, it still outpaces the screen size of an iPhone.

Read more: Best Athletic Shorts
| | |
| --- | --- |
| Dimensions (LxWxH) | 79.9 x 35 x 59.25 inches |
| Item weight | 229 lb. |
| Weight capacity | 300 lb. |
| Display | 10-inch HD Touchscreen |
| Max. speed | 12 MPH |
| Incline range | -3% to 12% |
Advertisement – Continue Reading Below
Best Compact Treadmill
XTERRA Fitness TRX3500 Folding Treadmill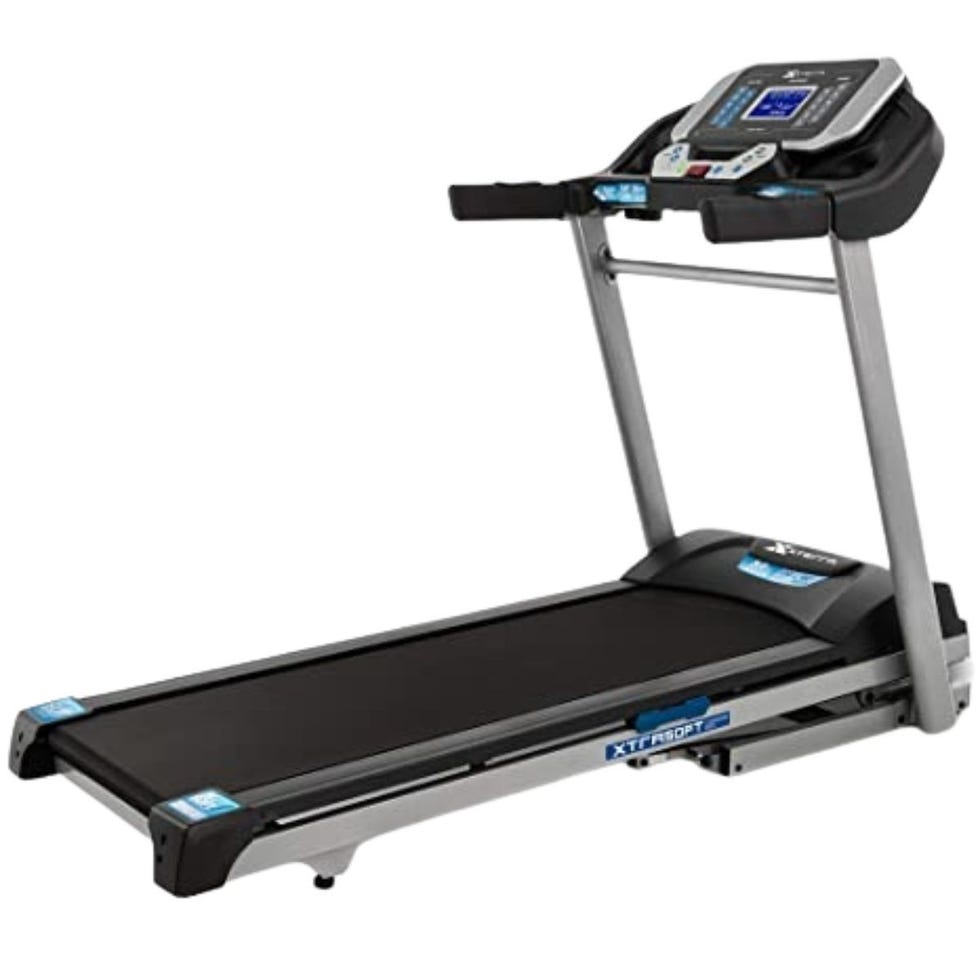 Best Compact Treadmill
XTERRA Fitness TRX3500 Folding Treadmill
Now 10% Off
Credit: Courtesy of Retailer
Pros
Lifetime frame and motor warranty
Generously-sized 60" x 20" running deck
350-lb user weight capacity
Has 30 built-in running programs
Cons
Limited incline range
Not suitable for more advanced runners
Need an affordable treadmill that can satisfy tight space constraints? The XTERRA TRX3500 is the best machine I've tested that fits the bill, all for under $1,000. During my testing, I was surprised at how quiet the belt and motor performed when maxing out at 12 MPH and 12% incline, though the machine did whine a bit as it adjusted to my desired incline. Despite its budget-friendly price, the steel frame feels solid, and the foldable design adds to its practicality for home use.
The 'Lift Assist and Safe Drop' mechanism exceeded my initial expectations, making it ridiculously effortless to fold and unfold the machine. It also has wheels. This is a machine that won't cause stress, a ton of logistical planning, and multiple hands if you ever need to relocate from one room to another. One person could manage it alone, no problem.
Unlike treadmills with interactive touchscreens, this model is a little less tech-savvy, with a 6.5-inch LCD display. While it does offer some built-in training programs and Bluetooth connectivity for third-party apps that we found intuitive to work, it lacks the smart features and finishes of higher-end models. But after all, at this price point, it isn't pretending to compete in that class of cardio machines.
Above all, this treadmill boasts a great value. In my experience testing budget to premium treadmills, a lower price tag often comes at the expense of build quality, weight capacity, and deck size. The TRX3500 defies this trend. Its 350-pound user weight capacity surpasses the industry standard, the 60-inch by 20-inch deck offers ample space suitable for taller individuals, and it provides enough power to meet most training needs.
Read more: Best Treadmill Desks
| | |
| --- | --- |
| Dimensions (LxWxH) | 77.2 x 35.5 x 56.1 inches |
| Item weight | 213.9 lb. |
| Weight capacity | 350 lb. |
| Display | 6.5-inch bright blue backlit LCD screen |
| Max. speed | 12 MPH |
| Incline range | 0% to 12% |
Best Treadmill for Walking
Echelon Stride Treadmill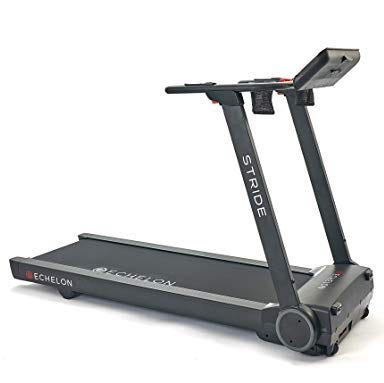 Best Treadmill for Walking
Echelon Stride Treadmill
Now 23% Off
Credit: Courtesy of Retailer
Pros
Foldable
Compact, lightweight build
55″ x 20″ deck is ideal dimensions for walking
300-lb user weight capacity
Comfortable deck cushioning
Cons
1.75 CHP motor is subpar
LCD display
The under $1,300 Echelon Stride is the ideal choice for someone who wants a treadmill for walking. It feels smooth, with speed and incline that are responsive and easy to adjust. It's much quieter than we expected it to be at this price point, perfect for home use.
My first impressions of this machine were that it has a much slimmer build than, say, a NordicTrack or Bowflex tread. On the bright side, that means a step up height that is lower and more accessible for most individuals. On the downside, a less powerful motor and less durability, making this machine more suitable for walking than running. The 1.75 CHP motor is downright weak compared to the industry standard of 3.0 CHP. Although this machine does max out at 12 MPH, we wouldn't recommend it for people who plan to train running on their treadmill.
I found long walks (more than 2.5 miles) feel great on the well-cushioned deck, though it may run a little short for taller guys.
If you're short on space, you'll love that this treadmill folds completely in half to just 10 inches wide (another major plus of the small frame). Unlike some treads that fold into a still-bulky silhouette, this one can easily fit under beds and couches for storage. I found folding down the handlebar and console and rolling this machine onto its wheels simple and doable without an extra person, too.
Read more: Best Running Shoes
| | |
| --- | --- |
| Dimensions (LxWxH) | 69.3 x 31 49.2 inches |
| Item weight | 156 lb. |
| Weight capacity | 300 lb. |
| Display | LED screen |
| Max. speed | 12 MPH |
| Incline range | 0% to 10% |
Best Value Curved Treadmill
Assault Fitness AssaultRunner Pro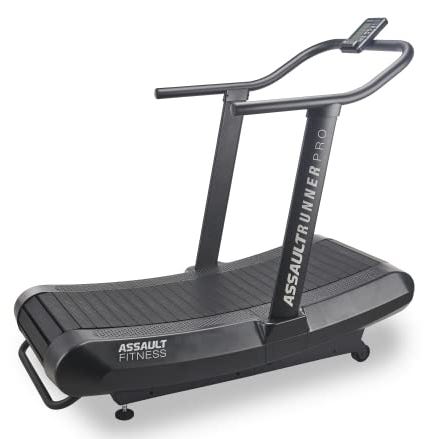 Best Value Curved Treadmill
Assault Fitness AssaultRunner Pro
Pros
350-lb user weight capacity
Bluetooth connectivity
User-powered
Works with Zwift
Cons
Large footprint
Frame warranty is subpar
The AssaultRunner Pro presents a more budget-friendly alternative (yes, $3,000 for a manual treadmill qualifies as affordable in comparison) to some of the pricier curved treadmills available today. You might already be acquainted with the AssaultRunner Elite, which is essentially the more premium version of this machine. However, we found that opting for the more cost-effective model from AssaultFitness didn't sacrifice much. We still enjoyed an exceptionally durable steel frame, backed by a 150,000-mile belt warranty, and Bluetooth connectivity.
When we say durable, we mean it. This manual machine can support users up to 350-pounds, and we never had to worry about its tech features. glitching or lagging—because there aren't any. Since this machine relies entirely on the user's power (not an external power source), I could maneuver it on its wheels from my garage to my driveway for a breath of fresh air whenever I felt like it.
It's worth noting, however, that relocating this treadmill up or down a flight of stairs without multiple pairs of hands can be a formidable challenge. It weighs in at 373 pounds and lacks any folding or compacting capabilities, meaning it requires a team to unbox and setup, as well as a permanent space ready to house this beast.
Read more: Best Curved Treadmills
| | |
| --- | --- |
| Dimensions (LxWxH) | 70 x 33 x 64 inches |
| Item weight | 280 lb. |
| Weight capacity | 350 lb. |
| Display | 7-inch Hi-Contrast, UV Resistant Console Screen |
| Max. speed | 20 MPH |
| Incline range | N/A |
Advertisement – Continue Reading Below
Why You Can Trust Us

At Men's Healthwe take great pride in providing our readers with reliable and trustworthy product recommendations. We believe that our readers deserve the best, which is why we always make sure to conduct thorough research and testing before making any recommendations. Our writers and editors thoughtfully select experts for collaboration on product recommendations, and are also experts in their own right. We've run on a lot of treadmills. Our team of writers and editors have spent the past few years writing, researching, and running on treadmills from top brands like NordicTrack, ProForm, Bowflex, Sole Fitness, AssaultFitness, Horizon and countless others, and use their informed opinions to select products and ensure that our recommendations are of the highest quality. We're up-to-date on industry standards (motor horsepower, warranty, incline/decline options, and speed) and the components that make up an excellent treadmill versus a 'meh' one.
Our product recommendations are purely editorial, and while we may receive free products to test and review, we only recommend the products we are most impressed by. We never let retailers or public relations contacts dictate our content or product coverage. Which is why you can trust us to provide you with reliable and unbiased product recommendations. So, if you're going to trust anyone to help you make a buying decision here, it should be us.
How We Selected the Best Treadmills
For the past 24 months, we consulted with Men's Health's Fitness Director Ebenezer Samuel, C.S.C.S., and Senior Fitness Editor Brett Williams, NASM, on the best treadmills for all types of use. Over the years, our dedicated team of Men's Health fitness editors have been rigorously testing treadmills from reliable, top-rated brands to evaluate them on their performance, user experience, size, durability, and overall value.
To ensure a comprehensive and thorough assessment of each product, the team has put each treadmill through the wringer with a variety of workouts, including sprints, long-distance runs, and tempo runs. Collectively, we've logged nearly 80 miles on each tread, allowing us to gain valuable insights into how it stacks up against other options on the market.
What to Know Before Buying a Treadmill

Buying a treadmill is a big investment—maybe not as much as buying a puppy or a new SUV, but there's still substantial commitment involved. Here are a few things to consider before bringing home your first (or next) treadmill:
Dimensions: Most home gym equipment takes up significant floor space. That's doubly true for treadmills. Check the dimensions of any treadmill you're currently shopping. Be sure to add at least 1-2 feet in every direction and three feet or more behind the treadmill (the area you step on to the machine from) for maximum safety.
One thing buyers also tend to overlook is the height. You'll want at least 15" inches above your own height when standing on the treadmill. So, if you're 5'10" (70 inches), make sure your ceiling height is enough to accommodate 85 inches, plus the height of the treadmill belt. This is especially important if you're planning to use your treadmill for running.
Deck size: Looking for a treadmill suitable for running? Or maybe you just want a reliable machine to walk on while you watch T.V. Whatever you're looking for, you'll want to ensure the deck size suits your activity preferences (and your height).
The industry standard for a walking treadmill deck is 55 inches by 20 inches and is at least 60 inches by 20 inches for running. You may be able to get away with running or walking on shorter decks, but this means altering your stride length, which means you'll have to think about every step you take.
Stability: This might seem obvious, but double-check that all four corners of the treadmill are firmly in contact with the floor after setup. Many home floors aren't 100% level (you'd be surprised). You want to make sure that your treadmill is well-planted to minimize the risk of slippage, shifting, or tilting.
Noise: Treadmills can—and often do—make a lot of noise, especially for your downstairs neighbors (if you live in an apartment) or housemates (if you live in a multistory house). If you think this might be an issue, consider a treadmill mat to help minimize the noise. As the name implies, they're simple and usually affordable mats designed to deaden the sound and vibration underneath a running treadmill.
Transportation: Moving a treadmill into a confined space, like a small bedroom or basement, can be challenging. Often, it makes sense to hire experts to do it for you.
If you're the handy type, you can opt to disassemble the treadmill. Start by moving, then reassembling the deck, then the uprights, then the console, in that order. Just be sure to allow the minimum recommended clearances we mentioned above.
Power required: Treadmills—especially large and commercial models—can draw significant power. If your home's electrical setup allows, dedicate one circuit to just your treadmill. This will help ensure that other power-hungry devices potentially on that same circuit don't blow a fuse.
Motor: Most brands are transparent about their motor's horsepower but some (cough, Bowflex) don't disclose on the treadmill's spec sheet. For reference, you should look for at least a 3.0 CHP motor if you plan to run or sprint regularly.
Safety features: Treadmills might not look all that dangerous and, when used properly, they're some of the safest pieces of gym equipment. Still, some danger exists. Understand the safety features of the treadmills you're shopping. At a minimum, you'll want fixed handrails and a stable surface that ensures your feet are properly planted and your stride is reliable. Many modern treadmills also feature an auto-shutdown clip that immediately cuts power to the machine in the case of a fall emergency.
Additional features: Many modern treadmills offer a solid list of bonus features. Consider things like incline and decline to add variety to your workouts. Some add extra shock absorption to minimize the impact on your knees, ankles, and joints. The best treadmills also offer touchscreen displays with web-connected features like interactive, trainer-led studio classes. Just know that, in most cases, these require an ongoing subscription that could add up over the years.
Budget: There's no getting around the fact that treadmills aren't cheap. Some of the best treadmills can run north of $5,000 while the most elite models, like Technogym's Skillmill, cost as much as a used Toyota. But you don't have to spend a small fortune to land a decent model. The best budget to mid-range models are priced between $1,500-$3,000. While that's not chump change, it's a worthwhile investment if you're planning to integrate jogging or running into your regular fitness routine. One more piece of advice: While there are a few sub-$1,000 treadmills on our list that are decent, don't expect them to last beyond five years or so.
And if you're currently balking at those prices, don't worry. Many companies (NordicTrack and ProForm come to mind first) offer financing on their treadmills to make them more accessible to the general public.
Warranty: The industry standard for a treadmill frame warranty is 15 years to life. This is the standard for mid- to high-dollar treadmills, but if you're buying some random machine off of Amazon for $200, don't expect this type of guarantee. We also recommend immediately registering your machine on the brand's website after purchasing to make sure you'll be able to cash in on the warranty if you ever need to do so.
Advertisement – Continue Reading Below
What Is the Best Treadmill of 2023?

According to Percell Dugger, the best treadmill is "the one you are committed to using, and enjoy using the most."
The short answer: it depends.
Size, power, price, and the available space in your home are all considerations. The best treadmill for you is one that will fit snugly (but with enough safety room on all sides) and offer the features that line up with your fitness goals and routine—all at a price that you can actually afford. Some treadmill buyers are happy to make do with a manual (non-powered) model with an old-school screen and few features; others might not mind splurging on a Peloton with all the "fixin's." There is no one best treadmill, so it's entirely your call.
Should I Buy a Folding or a Regular Treadmill?

The answer is all about space. If you have the real estate in your home for a regular, non-folding treadmill, the convenience of having it always "set up" and ready to go is usually worth the sacrifice you'll make in floor space. If, however, you're tight on overall space in your home or are planning to use your treadmill in a compact room, like a basement or garage, you may want to consider a folding treadmill that can be tucked away neatly when not in use.
Should I Buy a Curved Treadmill?

Maybe. It all depends on your personal fitness level and goals. Curved treadmills are non-motorized. They rely instead on you walking or running, and the belt being pushed backward manually with every foot strike on the sloped surface. While this might not seem as "fancy" or high-tech as a powered treadmill, this design has its benefits.
"Curved treadmills tend to recruit more muscles due to the shape of the belt and the act of propelling against it," says Sung, "It also eases the strain of your joints because of the curvature and is often better for users with varied joint pain."
By some reports, exercising on a curved treadmill burns 30% more calories over a traditional powered treadmill.
"One drawback of a curved treadmill is that it is difficult to achieve higher speeds (sprints) with proper technique. This can impact front side mechanics with one's stride through by 'reaching'," explains Sung. Another thing to consider: because curved treads are motorless, they also don't allow for incline or decline capabilities.
Advertisement – Continue Reading Below
What's the Best Treadmill Brand?

There's hardly been a better time to shop for treadmills as there are at least a handful of premium, commercial-grade treadmill brands to choose from. NordicTrack, ProForm, and Bowflex are just a few of the best treadmill brands. The treadmills from any of these are high-quality, extremely durable, and offer more next-gen features than their competitors. On the downside, they're also usually the most expensive. However, many offer free in-home trials so you can test them out before you fully commit.
Is an Elliptical or Treadmill Best for Me?

Researchers at the University of Mississippi found that elliptical trainers provide the same cardiovascular benefits as treadmill running, without the impact on your joints.
"An elliptical is a great low impact option versus a treadmill when it comes to running, which can be a great entry point to running," says Sung.
But a 2001 study in Medicine and Science in Sports and Exercise determined that the treadmill burns calories at the highest rate of any exercise machine. So, if you're looking for a rig that can burn calories fastest, invest in a treadmill.
"If you plan to do any sort of incline walking, jogging, or running, as a means of cardiovascular exercise, I would certainly opt for a treadmill," explains Sung.
Is Running on a Treadmill Better Than Running Outside?

"Running on a treadmill may seem easier, however, there are certain settings that you can play around with which will make it more difficult. However, running outside gives you exposure to your peripheral nervous system (the act of moving around objects in space)," says Sung.
When it comes to difficulty, some people may find running on a treadmill easier because the surface is flat and predictable, with speed and incline that can be easily controlled. Others may find it more challenging because there is no variation in terrain or wind resistance, meaning no pushes and no easier stretches.
Running on a treadmill provides a more controlled environment, too, which allows you to monitor your pace and progress easier and without the use of apps. And it takes weather out of the equation, which in some places, is important. Running outside, on the other hand, exposes you to the elements, which can have additional mental and physical benefits.
Advertisement – Continue Reading Below
How Much Should a Treadmill Cost?

As you can tell from our list, treadmill prices can vary. A lot. There are solid options available at various price points, ranging anywhere from from a few hundred dollars to several thousands (hello, Skillmill Curved Tread). But the value you get out of lower or higher end options is highly variable, too.
Ultimately, the amount you should spend on a treadmill depends on your budget and your needs. If you're in the market for a basic treadmill with limited features, expect to spend between $500 and $1,000 for a model that will last. While there are reasonable options under $500, though they typically offer the least features, weight capacity, and longevity.
Curved treads and those made for commercial use will run you some significant dough, as they're heavier-duty and built for high volume use. Meaning they'll last a long time.
If you want a high-end treadmill with advanced features like incline, decline, pre-set workout programs, and a large display, expect to spend between $1,500 and $3,000. If you're a serious athlete or want more extensive features on a top-of-the-line machine (like a curved tread), prices start in the thousands and range well into 5-figures.
Purchasing a treadmill can be an investment, of course. So take you time considering the most important factors: your budget, your fitness goals, and the features you won't want to live without.
When Is the Best Time to Buy a Treadmill?

While treadmills are typically pricey any time of year, there are a few key days to look for to save. They typically go on sale during the usual big holidays, like Black Friday and Cyber Monday. Look for discounts on Memorial Day and Labor Day as well. But, the absolute best time to buy a treadmill is right now. January is when many treadmills go on sale as the best treadmill brands look to capture New Year's resolution makers on the first of the year.
Read More About the Best Home Gym Equipment

Fitness and Commerce Editor
Talene Appleton is a fitness and food writer and editor, certified personal trainer (NASM-CPT), and former professional dancer based in New York City. Passionate about both exercise and cuisine, she merges her fitness, nutrition and culinary expertise with the goal of motivating others to embrace balanced healthy living. Her work has appeared in Men's Health, General Surgery News, The Food Institute, The Nessieand more.

Writer
Caroline Lubinsky covers fitness shopping stories for Men's Health. She's a former NCAA D1 Women's Soccer player and is a CrossFit Level 1 trainer. Her work has been featured in Garage Gym Reviews, Reader's Digest, and more.

Ebenezer Samuel, C.S.C.S., is the fitness director of Men's Health and a certified trainer with more than 10 years of training experience. He's logged training time with NFL athletes and track athletes and his current training regimen includes weight training, HIIT conditioning, and yoga. Before joining Men's Health in 2017, he served as a sports columnist and tech columnist for the New York Daily News.